Monday, November 26, 2012 at 09:00AM
Word Cloud or Meme, sometimes the frustatration of living with chronic pain is devastating and as much as I strive to thrive the agony bothers me to the verge of defeat. The edge is not a fun place with a beautiful view. The edge is bleak, depressing and sad. After 25 days of writing for WEGO Health's National Health Blog Post Month, today's post is a briefly exploration of me, graphically speaking.
http://worditout.com/word-cloud/134613
Sometimes, I smile through the pain, not wanting to show my true feelings and other times I just want to yell... "Fog Off Lupus!"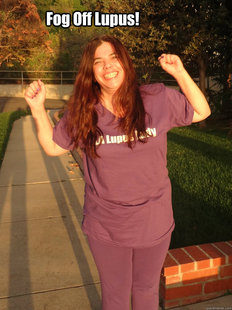 written for Day 26 of National Health Blog Post Month "Make a chart/meme/poster and write about it."
tagged
Meme,
NHBPM,
WEGO Health,
lupus
in
Lupus,
NHBPM,
WEGO Health